Kitchens have fully transformed and left behind any vestiges of being the labor-focused food prep station of yore (orange cone work zone). Instead, the room has morphed to become the most dynamic and influential household space. It's the heart of the house – where social interaction and connection, entertainment and media consumption, healthy lifestyle expression, and food adventure all coalesce.
Life unfolds here on so many levels.
A renaissance created by cultural change
When exactly did the kitchen move from cooking conclave to heartbeat of healthy living? The origins can be traced to a cultural shift sparked by the Internet age in the late 90's and the dawn of 'anything that can be known will be known' – ushering in the era of consumer control. The digital revolution allows people to indulge in unprecedented access to information about fresh food, industrial food, ingredients, sources, preparations, cooking techniques, and the impact of our food choices on both ourselves and the environment.
Fanning this spark to disruptive blaze is the unstoppable premiumization of food experience in America; a massive light bulb moment that what you eat directly impacts the quality of your life. In sum, the consumer's desire for higher quality food and beverage experiences goes along with their higher quality lives.
Let's face it – food is just super popular. Think Food Network, celeb chefs, food bloggers, food trucks, meal kits, cooking schools, the move to fresh and local over packaged and processed, culinary vacations, gastropubs, even school food – virtually everywhere food quality has gone up. Except on your average airline.
Further examining root causes
There is an equally intense desire to invest more time in an environment we can control while the world outside roils with uncertainty. This condition has helped catalyze a resurgence in cooking skills and culinary exploration; helping fuel the deepening bond between satiating our more sophisticated sensory interests and desire for more social attachment.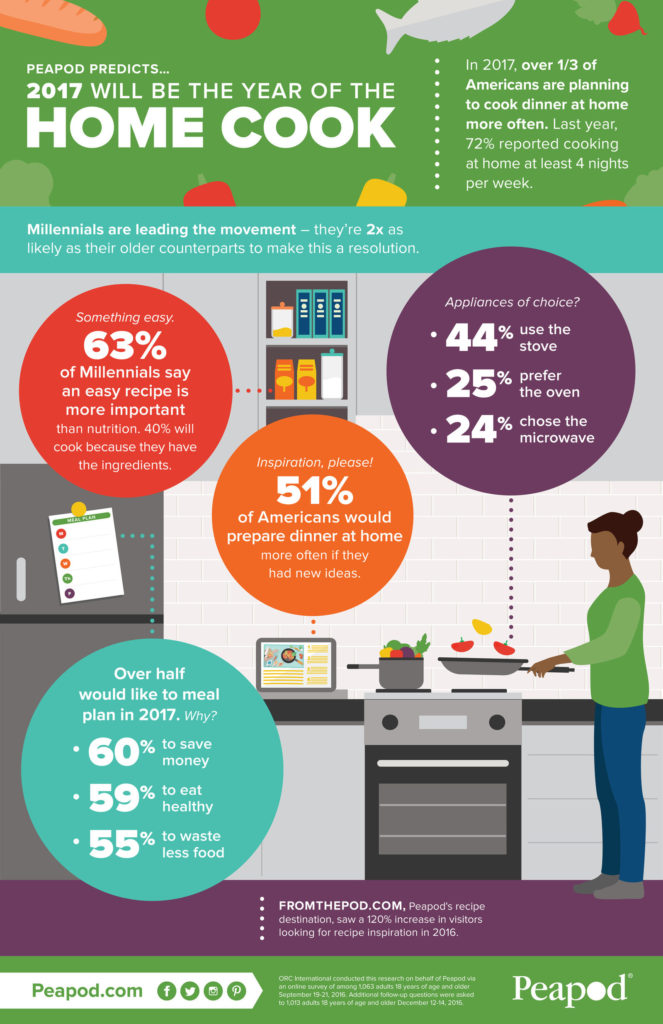 Source: Peapod – From the Pod (2016)
In fact, it is the intersection of media, food experience and the social aspects of food consumption that has transformed the kitchen area to lifestyle retreat.
Stepping back – when healthy was a narrower idea
At one point in time, healthy was ascribed to calculations of addition by subtraction. A food focused trip to ingredient eradication in service of less – sodium, sugar, fat, and calories. Healthy is no longer just a food-centric science experiment. Instead, it is a way of living that mirrors the consumer's interest in a more fulfilling life.
Know more, be more and do more. Live better, brighter and longer. Yes, we've connected the dots between what we consume and do and the outcomes on health and happiness. We've rediscovered the true path to improved and more interesting food experiences through experimentation in the kitchen.
For this reason, we increasingly prefer to have home prepared meals over dining out – for its creative inspiration, control over experience, and ability to manage ingredients to our specs. The kitchen is now an environment that bridges media and entertainment interests with family and social interaction.
An expression of healthy living
We've come to appreciate a more holistic integration of mind, body, and spirit. We recognize how our choices and decisions impact the direction we take, experiences we have.
The kitchen is the hub and epicenter for much of what we do each day. Here celeb Chef Rick Bayless describes the higher purpose of food in our lives:
"I want you to cook more. It's good for you. You know exactly what you're nourishing yourself with… It allows you to feel the natural rhythms of life in a way that microwaved frozen dinners never can. And cooking often draws people to the table, encouraging dialogue and providing a moment to appreciate the good (and truly tasty) things in life."
Just magic!

The implications to marketers working in and around this area in the home are deep and diverse. How can brands become enablers of creativity, personal expression, learning achievement, social discourse, family life and relationship growth?

Healthy living is more than a commitment to exercise. It's a desire to follow a path to improved happiness and satisfaction. Brands that position themselves as facilitators of healthy lifestyle and provide resources, information, and easy-to-use tools will endear themselves to this ever-growing, engaged and active consumer base.

This is rich territory for social and experiential content and brand community building – enlarging the brand voice to rise above feature and benefit selling, to become a true partner in consumers' lives. Oddly enough, letting go of traditional sales thinking can achieve authentic engagement and real traction.

What's more, we unlock a treasure trove of relevance to consumer's lives and what they care about. If brands can become a genuine healthy lifestyle coach, then we can also earn permission for a relationship built on trust and reciprocity.

The creative wheels should spin on elevating kitchen strategy – designing a viable footprint in this area of the home that fuels emotional lifestyle aspirations over tech specs. Just exciting.

Everything can be summed up in this thought:
We sit in service of the whole human being, not just the stomach.

What do you think?

Looking for more food for thought? Subscribe to our blog.

Bob Wheatley is the CEO of Chicago-based Emergent, the healthy living agency. Emergent provides integrated brand strategy, communications and insight solutions to national food, beverage, home and lifestyle companies.  Emergent's unique and proprietary transformation and growth focus helps organizations navigate, engage and leverage consumers' desire for higher quality, healthier product or service experiences that mirror their desire for higher quality lifestyles. For more information, contact Bob@Emergent-Comm.com and follow on Twitter @BobWheatley.

Tags: