When disruption is necessary for real progress
Just returned from the Food Marketing Institute's Midwinter Executive Conference in Scottsdale. A remarkable gathering of food retail CEOs and CPG C-suite officers who come together once a year to network and compare notes on the future of the food business.
Much of the agenda focused on digital tools and strategies as food retailers work to address e-commerce, assaults from digital culinary innovators like Blue Apron and the disruptor of all retail, Amazon. Change is definitely in the air…
Kevin Coupe, author and owner/producer of the Morning News Beat and I were chatting about the hurdles to change in food retail. Made tougher when the business model based on razor thin margins and velocity/volume runs headlong into a consumer desire for greater service, culinary experiences and higher quality real, less processed food adventures.
I think it's safe to say the food and beverage industry is in a state of transformation as food culture shifts impact what consumers want and how they engage with both product brands and retailers. But change is hard if you've been following a certain strategic recipe for decades. And the rules and conventions of business are just so familiar it's challenging to walk past the comfort zone of what you think you know. In a manner of speaking, it's difficult to follow the beat of a different drummer.
What's changed?
People have changed – their wants and needs, how they engage with brands, their media preferences, their attitude about food and the things that motivate purchase or how they form relationships with brands and retailers they care about.
If your own corporate culture follows a relatively predictable path, then planned disruption may be necessary to alter course and, yes, Think Different.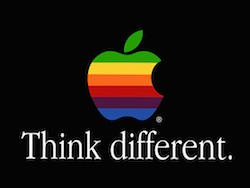 Think Different – the disruptive idea that ignited Apple's resurgence
The story of Apple's transformation in 1997 is one of disruption and evolution. For more than a decade prior Apple had been through an identity crisis that started in 1985 when Steve Jobs was drummed out of the company he started. Following Apple's merger with NeXT, Jobs returned to the fold as interim CEO.
During that time the tech business was defined mostly by desktop computers and the software that powered them. When Jobs got control he wanted to re-introduce the brand while ushering in a new hardware era where design and user experience considerations were as important as the technology. And in doing so, he repositioned Apple differently against the other beige boxes in the competitor set.
Lee Clow was the TBWA\Chiat\Day creative executive behind what many consider to be the best TV commercial ever produced, Apple's "1984" Super Bowl spot – created to introduce the Macintosh. After a decade long hiatus, Clow and colleague Rob Siltanen were invited to meet with Jobs to discuss his objectives. This meeting would ultimately lead to the renaissance of the Apple brand and its emergence as one of the most successful corporate turnarounds in history.
What's important in my mind about this isn't so much the ad campaign. It arguably set the company on a new trajectory, but more so the thinking and influence the message had within Apple and popular culture.
Clow and Siltanen brought a video to their presentation that helped cast the thinking behind "Think Different." Essentially, it was a way to put Apple in league with the great disruptors in history who've created change in one way or another in science, the arts, their careers or life pursuits.
Here's the script from that video: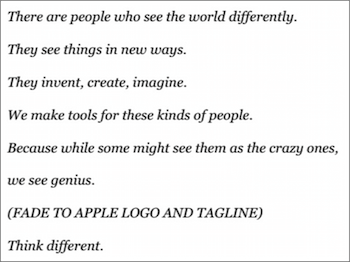 Albert Einstein, Mohammed Ali and others were employed as the iconic examples of "Think Different." Please note this communication did not focus on features or technical advantage. There was no buzz on chips or memory capacity or screen resolution and lower prices. Instead, it was a clarion call to the creative community and others who see themselves on a different path, that this is the non-computer computer company for you.
The bold move to pick a position and bravely stand on it was unexpected, unusual and flew in the face of conventional thinking in how you make the case for these products.
Perhaps Job's best move was to put user experience at the top of his business agenda and drive hard on that point of view through every innovation and strategic move they unleashed, including Apple retail stores – a unique experience in themselves.
"Think Different" expressed a point of view. It went past the obvious of tech and specs and focused instead on the ambitions and desires of all the game changers out there who want to leave a mark on the world. It was, and is, inspirational.
Disruption and the goal of culinary experience
Unlike CPG brands that must focus on message, social community and content to engage their audiences, food retail has the awesome advantage of real-time live experience to bring the level of engagement up a personal notch. How can the food retail experience be disrupted and thus changed to alter the perception people have of the banner(s) they prefer?
What can be done to better develop culinary inspiration, guidance on health and wellness in ways that alter what happens inside the front door?
If consumers could design their own food retail experience, what would it look like? From what we have gathered from previous projects and research, we can say it would follow closely the consumer's own desires around food and its preparation and social enjoyment:
Service in the aisles
Better-trained staff
Culinary experiences
Help and guidance in real time with menus, techniques and preparations
Meal solutions not just ingredients
More transparency around the supply chain
Recognizable standards and commitments to help consumers make better choices
Tastes, flavors and smells from the kitchen
Community creation for food lovers to share and exchange ideas
True innovation is more than a signage proposition. It requires putting the consumer at the center of business strategy, investing in insight discovery about their wants, needs, concerns and aspirations – and working backwards from there.
That, by the way, is what we do.
Looking for more food for thought? Subscribe to our blog.
Bob Wheatley is the CEO of Chicago-based Emergent, the healthy living agency. Emergent provides integrated brand strategy, communications and insight solutions to national food, beverage, home and lifestyle companies.  Emergent's unique and proprietary transformation and growth focus helps organizations navigate, engage and leverage consumers' desire for higher quality, healthier product or service experiences that mirror their desire for higher quality lifestyles. For more information, contact Bob@Emergent-Comm.com and follow on Twitter @BobWheatley.