Pros weigh in
Emergent recently formed a collaborative relationship with Toronto-based Fresh Squeezed Ideas, a firm focused on helping brands build stronger more relevant and powerful strategies through Behavioral Science research.
This move is consistent with our belief that deep understanding of consumer interests, passion and motivations is required to build communications that engage consumers powerfully and credibly.
Today, we are releasing our first joint publication Purpose: Driving Business Strategy – addressing one of the most important issues now at the forefront of building sustainable growth: rallying business and marketing plans around a company's Higher Purpose.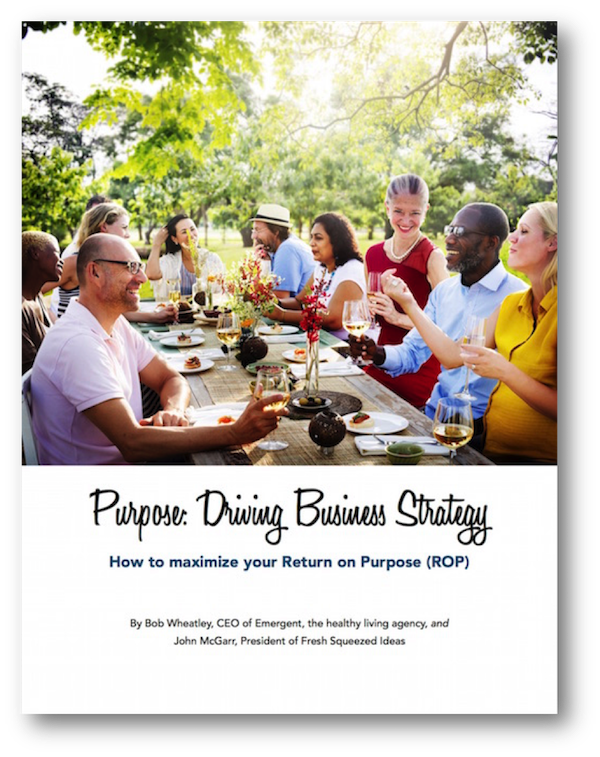 Why? The purpose-built organization is in a much stronger position to generate meaningful relationships with consumers, who increasingly seek from the brands they care about values and beliefs that mirror their own.

Click here to download our featured article. I think you'll find it an interesting overview of our shared insight.

Would love to hear your thoughts on this!

Looking for more food for thought? Subscribe to our blog.

Bob Wheatley is the CEO of Chicago-based Emergent, the healthy living agency. Emergent provides integrated brand strategy, communications and insight solutions to national food, beverage, home and lifestyle companies.  Emergent's unique and proprietary transformation and growth focus helps organizations navigate, engage and leverage consumers' desire for higher quality, healthier product or service experiences that mirror their desire for higher quality lifestyles. For more information, contact Bob@Emergent-Comm.com and follow on Twitter @BobWheatley.

Tags: